World BASC Organization held its 2019 General Assembly, with the participation of representatives of the BASC National chapters from Colombia, Costa Rica, Ecuador, El Salvador, Guatemala, Panama, Peru and the Dominican Republic. In this occasion, representatives from the BASC Regional Chapters of Colombia and Ecuador where invited.
As every year, important topics to determine the WBO work plan for 2019 where discussed and approved, as well as the annual report of 2018.
The WBO general assembly elected new members of the Board of Directors for the period 2019 – 2021. The New Board is formed by the following members: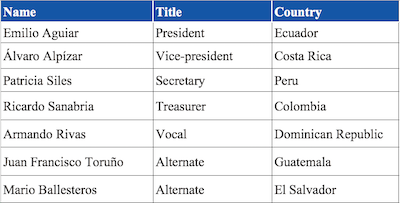 WBO wishes success to the new board of directors and is grateful for the support and dedication in the upcoming years, for contributing to strengthen the WBO mission in the member countries and the world.
New members of the Board of Directors of WBO. From left to right: Juan Francisco Toruño – Alternate, Armando Rivas- Vocal, Ricardo Sanabria-Treasurer, Álvaro Alpízar-Vice-president, Emilio Aguiar-President, Patricia Siles-Secretary and Mario Ballesteros-Alternate.
WBO is grateful for the support and contributions of the former Board of Directors during the year period (2017-2019) as they fulfilled with great commitment and dedication, the leadership of the second most important governing body of the World BASC Organization.